Our Original Surface Tension Gutter Cover
There is no better gutter cover system on the market. Period. Gutter Topper, with its patented design, is the most effective, beautifully finished gutter cover available for deciduous trees. Gutter Topper's patented design gives it a smooth silhouette that enhances your roofline. And it's available in a wide range of colors to blend with the colors of your shingles and gutters.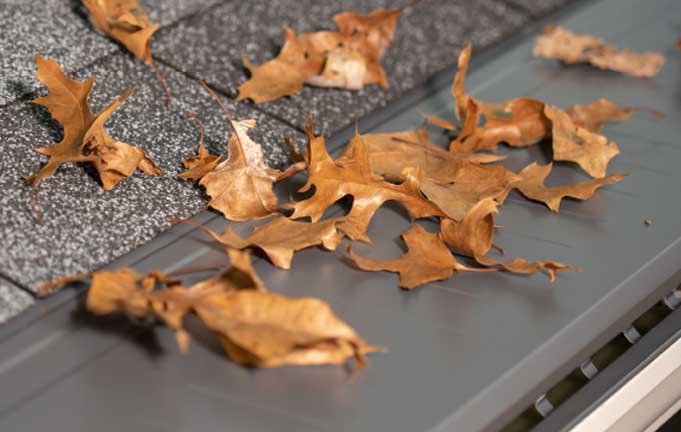 Gutter overflows can quickly cause damage to landscaping, ruin basements and destroy the foundation of a home or structure. 
You probably know that you need gutter covers, but may not know how important they are in preventing damage. Not only can improperly maintained gutters cause water damage to your home, but it can also lead to more serious problems like mold, mildew, and rot.
Gutter Topper® is your perfect deciduous tree solution with a beautifully finished look. Our product is uniquely designed with critical bends forming a rounded 'nose' that allows water to cling to the curve, depositing it in slots at the bottom of the system. Leaves and debris remain on Gutter Topper's flat surface and blow harmlessly to the ground once they dry.
Gutter Topper is tested and certified to endure 110 mph winds (category 2 hurricane) with no lift or movement and can withstand 22 inches of rainfall per hour. It will perform as promised even in the harshest weather conditions, keeping you safely off your roof!
Reduces home and building maintenance costs
Patented BirdGuard System that prevents birds from building nests inside your gutters
Will not void your shingle warranty
Easy installation over existing gutters by attaching to the roof deck — no mounting brackets or hangers
Made in the USA
Sleek look adds to the aesthetics and value of your home
20-year transferable paint finish warranty
1″ pre-adjusted overlap so you can easily connect to your next piece, clipping the cover to the lip of the gutter
Contains special design ware to prevent tiger striping